As always, the latest CFR (Centre for Feminist Research at York) is full of gems – talks, CFP's, opportunities.  
What a choice at Yorku for October 24th!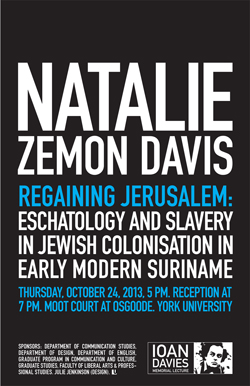 Natalie Zemon Davis  "Regaining Jerusalem: Eschatology and slavery in Jewish colonization in early modern Suriname"
Annual Ioan Davies Annual Lecture October 24th from 5:00 to 7:00 p.m. in Osgoode Moot Court with a reception to follow.
University of Toronto social historian and Professor Emerita of Princeton University, Professor Davis is one of the foremost living historians, of the early modern world especially, and a pioneer in women's history. She is the author of The Return of Martin Guerre, Fiction in the Archives, Trickster Travels, among numerous other influential works. She received the order of Canada in 2012 and in July was awarded the National Humanities Medal from US President Barack Obama in a White House ceremony.  Read a profile of her here.
The Ioan Davies Memorial Lecture commemorates the life and work of Ioan Davies, who explored art and popular culture in terms of the kinds of opportunities they offer for common political action. Davies was the author of several works of fiction and non-fiction, including Cultural Studies and Beyond: Fragments of Empire, Writers in Prison, and Social Mobility and Political Change. Davies taught graduate courses on aesthetics and contemporary critical theory in the Department of Social & Political Thought in York's Faculty of Art and was influential in establishing the African Studies Program and the Graduate Program in Communication and Culture.
Talk by Judy Rebick: "Occupy Education: Towards a Social Justice Approach for Inclusive and Equitable Education", York University,
Thursday, Oct. 24, from 6:30 to 8:30pm, at 135 Vanier College, Keele campus.
The York Centre for Education& Community (YCEC) fall 2013 public lecture will feature well-known social justice activist, writer, broadcaster and speaker Judy Rebick.   Rebick will talk about challenging the existing system of education to create a system that is more inclusive and more diverse. Despite steps towards diversity that began in the 1980s, progress has slowed. Using lessons from new movements like Occupy and Idle No More, Rebick will show the importance of changing the way we educate to achieve diversity and inclusion.
Judy Rebick: From 2002 until 2010, Rebick held the Sam Gindin Chair in Social Justice and Democracy, having been appointed to it upon its creation. She is also the founding publisher of Rabble.ca, Canada's most popular independent online news and discussion site. She is the author of several books and articles, most recently Transforming Power: From the Personal to the Political (Penguin, 2009) and Ten Thousand Roses: The Making of a Feminist Revolution (Penguin, 2005). Her other books are Imagine Democracy (Stoddard, 2000) and Politically Speaking (Douglas & McIntyre, 1996). During the 1990's, Rebick was the host of two national TV shows on CBC Newsworld and a frequent commentator on CBC radio and television. She also contributes commentaries to a host of newspapers and magazines. She is perhaps best known to Canadians as a former president of the National Action Committee on the Status of Women, Canada's largest women's group. Rebick is also a board member of Alternatives, a Quebec based international non-governmental organization, and is on the advisory boards of Fair Vote Canada and the December 6 Coalition. 
For more information, contact YCEC at 416-650-8458 or by e-mail at ycec@edu.yorku.ca.
Future of the Women's Movement Roundtable Follow-up and Strategizing, University of Ottawa, (October 30, 2013).
Last October, feminist organizations, academics, labour, and other interested individuals came together for a roundtable discussion on the future of the women's movement. As a follow-up to last year's event, please join us on October 30, 2013 in the Old Chapel of Tabaret Hall, University of Ottawa, from 9am-4:30pm to learn more about the outcomes of last year's gathering, our evolving collaboration as Canadian Feminist Voices, and for a facilitated session to develop a feminist strategy leading up to the 2015 federal election. We are still in the process of finalizing the agenda and speakers; more details will be made available soon. Please send your RSVP to canadianfeministvoices@gmail.com including details about any accessibility requirements you may have. Planning Committee: Canadian Association of University Teachers, Canada Centre for Policy Alternatives, Making Women Count Canadian Federation of University Women, Canadian Labour Congress, YWCA Canada. 
TWENTY-FIRST CENTURY FEMINISM AND THE ACADEMY  Sponsored by The Department of Women's Studies and Feminist Research, Western University, and The Royal Society of Canada (October 19, 2013). The talks will also be available on internet live-feed, and as podcasts at http://www.uwo.ca/womens/pages/events.html. Oct. 19, 2013, 9:30am -6:00pm David S. Chu International Student Centre, Western University, 2130 WSSB. Four distinguished speakers will address the challenges of incorporating feminism and issues of diversity in contemporary Canadian Universities.  Featured Speakers: Carla Fehr, Wolfe Chair in Scientific and Technological Literacy, Philosophy, University of Waterloo. Excellent science: of the people, by the people, for the people, Frances Henry, Professor Emerita, York University Racialization, Gender and the Academy, , Scott Morgensen. Gender Studies, Queen's University, Indigenous Feminism and Settler Sovereignty: Responding to Idle No More. The talks will also be available on internet live-feed, and as podcasts at  http://www.uwo.ca/womens/pages/events.html. To register  uwo.ca/womens/pages/events.html for the online registration form. More information please contact: Helen Fielding, hfieldin@uwo.ca.