by Hedie Mirimoghadam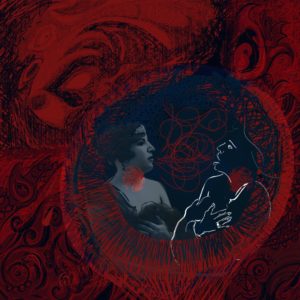 Poster designed by Azarmidokht Elahi
A talented vocalist artist with a heavenly voice challenged public opinions and cultural stigma by singing in public with no Hijab for the first time in Iran's written history nearly a century ago. This talented star was named Qamar Al Molok Vaziri, aka Qamar, who became a star in Iran's music history during the Qajar era and has remained so in the Iranian memory up to this date.
During the Qajar era, restrictive social and governmental rules withheld female artists from performing in public. Women had to wear a restrictive cover in black, also known as Hijab, which covers their body and faces with a small opening for eyes. Schools accepted only male pupils, and an uneducated woman was an accepted social norm.
However, the Qajar era was also a turning point in Iran's social movements history, while liberalism, nationalism, and democratic movements drove fundamental changes in the fabric of society and whereas a catalyst to women's rights movements in Iran.
During this era, Bibi Khanum Esterabadi established the first school for girls despite opposition from religious conservatives who saw education for women as unnecessary and secular. This era also provided several examples of women's influencers; among them is Qamar Hossein Khan, known as Qamar Al Molok Vaziri.
Qamar was born in 1905. His father died before her birth, and she lost her mother when she was 18 months old. She was raised by her grandmother, Kheir Al Nesa, a forward-thinking woman who was a singer herself. Kheir Al Nesa performed in religious ceremonies as a vocalist for royal families. Qamar learned to sing by just listening to her grandmother. She first performed at the age of 9 in a religious gathering.
Qamar lost her grandmother at the same age and had to live with her aunt. The sorrow of losing her grandmother and teacher made her depressed dramatically and she lost interest in singing for a while.
Years later, at the age of 15, she broke her silence by volunteering to sing at her cousin's wedding while such an act was socially condemned. Amongst the guests was Morteza Ney Davoud, one of the legendary musicians in Iran's history, who soon became her teacher, mentor, and main source of support. Ney Davoud found Qamar's voice more potent than any male singer. "You will soon become the best singer of this era," said Morteza in his first meeting with Qamar.
Qamar started learning from Ney Davoud and soon became a master of Persian vocal music's repertoire and was known for her unique voice in a male-dominated society. Qamar's mezzo-soprano voice had a vast expanse; it was powerful and lyrical, accurate and sensitive, faithful to the traditional values and the emotive.
Qamar was not only a pioneer in music but also a strong and confident woman. Her guardian engaged her to a man in an arranged marriage which she refused to accept. This act required considerable courage when arranged marriage was a perfectly acceptable cultural norm for women, and avoiding that could bring shame to the family.
Qamar was a trailblazer and accepted the invitation to perform in the Grand hotel concert hall in 1924 - the first public appearance of a Persian female vocalist without the obligatory veil. The elites and reformists admired her, and the conservatives called for severe punishment.
After the concert, the audience inside the Grand hotel shouted for her novelty while more than 3000 people outside were protesting and threatening her to death. While the Iranian society was finding its way toward modernization, this divide could not be neglected: Those who supported the change and those who fought against it.
Qamar was called to authorities the day after that concert and questioned for appearing on stage without a veil. However, it was clear that night was the beginning of a movement. The movement she started was followed by many other women singers and set a precedent and affected future generations' musical trajectory.
Qamar continued her activities as a female singer. She got married again. However, the marriage did not last more than three years. Neither society nor her husband was still ready to accept a woman as a singer. Qamar's husband asked her to stop singing; she disagreed and asked for a divorce to pursue her career.
Years later and with the establishment of national radio services in 1941, music became affordable for a larger population, and was no longer exclusive to elites and high-level social strata. Qamar participated as a vocalist on Radio Tehran's musical programs, accompanied by highly-respected musicians such as Abul Hassan Saba.
Qamar was widely admired and loved for her unique voice and progressive social and political tendencies during her life. She was known for her legendary compassion and generosity to the poor and disempowered people.
Qamar died on August 6, 1959, at the age of 54. Her body was taken to a local mosque to perform the pre-burial religious rituals, but the mosque custodians refused to accept a female singer's corpse as they believed her body carried a life of guilt and shame.
Qamar was the first Persian female vocalist to perform in public without the socially and religiously sanctioned dress code for women, the first recording female artist, and the first female vocalist to sing and record politically-charged songs such as Abu'l-Qasem Aref's Constitutional Revolution song, Marsh-e Jomhuri. Her strong legacy as a vocalist became the exemplary foundation for subsequent Persian female vocalists' career to this date.Here is a preview of her talent: https://www.youtube.com/watch?v=jF0vvvOxRAg 
A century after Qamar's spectacular performance, Iranian women are still battling the negative religious, social and cultural stigma of singing in public and all the limitations on expressing their identity and freedom of choice.
This blogpost was the first in a series recounting the career story of Persian female singers in the past century. In the next posts, we will look at the Pahlavi and post-Revolution eras and review the battles of Iranian women to reclaim their right to sing in public.
Reference:
Zohreh Khaleghi, Avaye Mehrabani, Tehran, 2000
Mahnaz Seyed Javaheri, Ba Mah dar Avaz, Tehran, 1999
Touka Maleki, Women of Iranian music, From the legendary time up to now, Tehran, 2001
Hedie Mirimoghadam is an Iranian women's rights activist. She's the producer and host of Rozan podcast, the first Iranian podcast about women and gender equality.