by Hedie Mirimoghadam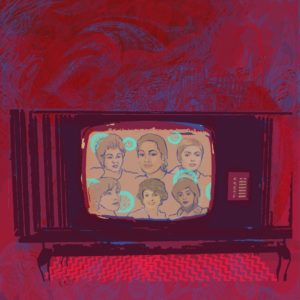 Poster designed by Azarmidokht Elahi
The Pahlavi era started with Reza Shah, who introduced policies that altered the lives of Persian women radically. He built an authoritarian state and promoted secular and modernizing policies.
Reza Shah established the first public co-educational primary schools for women in 1936. This initiative was one of the main catalysts for awakening women in that period. The unveiling (banning all Islamic veils) was enforced. Women's presence was encouraged in modern sectors of the economy, and they were allowed to take part in public office for the first time in recent history.
After Reza Shah's abdication in 1941 and between 1962 and 1978, the Iranian Women's Movement gained vast victories such as the right to vote in 1963, as a part of Mohammad Reza Shah's White Revolution. Women's suffrage was a change in Iranian political culture that was very much in line with the women's movement in the West.
In 1975 the Family Protection Law recognized new rights for women. It increased the minimum age of marriage to 18 for women and to 20 for men. The right to divorce that had been the husband's monopoly was given to the courts, and, under similar circumstances, both men and women were able to ask the courts for a divorce.
Before the 1975 Family Protection Law, a man could marry four wives and have many temporary marriages. However, as a result of this law, a man could marry a second wife only with a court permit and after obtaining his first wife's express consent. Besides, it was necessary to provide a valid reason to the courts to obtain a permit.
Not only was the female vocal artistry influenced by the socio-cultural and regulatory advancement of this era, but it also gained momentum from other factors such as:
The establishment of various music schools that helped women pursue singing as a professional career. Nearly half the graduates of these schools were women; among them are Golnoush Khaleghi and Ophelia Parto.
The rise of Pop music in Iran. Vigen was the first singer to adopt this genre. It was then pursued by many female vocalists such as Googoosh and Leila Forouhar.
The establishment of Cinema and National Television. Cinema soon became an inseparable part of Iranian lives, and musical films featuring both male and female vocalists became very popular. In 1959 Mohammadreza Shah established the national television, which greatly influenced Iranian culture and introduced a new portrait of women in films and advertisements. The TV and advertising industries tried to provide a role model for both women and men of modern Iran.
In my recent interview with Aida Shahghasemi, an Iranian vocalist, musician, and faculty at Minneapolis College of Art and Design, she provided her point of view on the role of media in the evolution of Iranian female vocalists.
"People's lives went through significant changes in the years following world war II. The rise of television and advertising had largely affected consumers' behavior. From Japan to the US, women across the world started following a similar pattern of clothes and appearance." says Aida.
She continues, "Pop culture had an effect not just on visual arts but it made its presence known in music as well. We started hearing and seeing women on TV screens that, for example, sang a song with a Dashti theme—which is a traditional Iranian melodic pattern—sounding rather exotic while looking really familiar to a Western eye with their hairstyles, clothing, and makeup. Such vocalists were no longer just vocalists; they also became trendsetters representing brands and putting in motion a new era of cultural consumerism."
However, not all the vocalists followed the same route. During the same era, Dariush Safvat founded a Center for Preservation and Propagation of Iranian Music that saved traditional music from obliteration in the 1970s and trained some of the most prolific masters of Persian music, such as Parisa.
The Pahlavi era was a bright and promising period for female vocalists. It was one of the rarest moments in Iran's history in which being a vocalist, particularly for women, was considered a solemn profession, and vocalists such as Marzieh or Hengameh Akhavan were in fact employees of Radio Tehran during this time.
This era's freedom lay a cultural foundation, giving birth to many women vocalist talents such as Googosh, Leila Forouhar, and Haydeh. However, this trend was short-lived and suffered significantly from the 80s to this date. In the next article, we will look at the unfortunate demise of women's role in vocal artistry in Iran.
References:
1- EIr, Janet Afary, "FEMINIST MOVEMENTS i. INTRODUCTION, ii. IN THE LATE QAJAR PERIOD," Encyclopedia Iranica, IX/5, pp. 489-491, available online at http://www.iranicaonline.org/articles/feminist-movements-i-ii (accessed on 30 December 2012).
2- Tooka Maleki, Women of Iranian Music from the Legendary Time up to Now